2014 - The year in review
---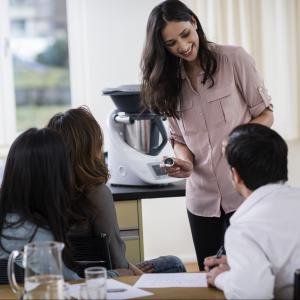 2014 was a year of change, growth and excitement here at Thermomix and we'd like to thank you all for your support. Here's a quick recap of some of the highlights of 2014!
 - 220,000 demonstrations to Australian and New Zealand households
 - 82,000 new Facebook fans joined us to make a community of over 167,000!
 - 80,000 customer journeys commenced
 - 54,000 people attended 1,340 cooking classes
 - 50,000 new users joined Recipe Community to total 117,000 members!
 - 11,000 Pinterest followers are sharing Thermomix recipes with their communities. Click here to view our most popular board!
 - 8,659 recipes added to Recipe Community, with over 13,500 delicious recipes now available. Click here to view the 3 most popular recipes of 2014!
 - 2,923 new Consultants came on board. Thank you for making a difference.
 - 4 publications released - Quirky Cooking, The Basic Cookbook and Cooking for me and you booklet and cookbook
 - 2 new branch offices to better serve our customers
 - 2 Gourmand Cookbook Award wins for In the Mix 2: More Great Thermomix Recipes and Thermomix Cooking for your Baby and Toddler
 - 1 new model welcomed to the Thermomix family