Introducing our new ambassador
---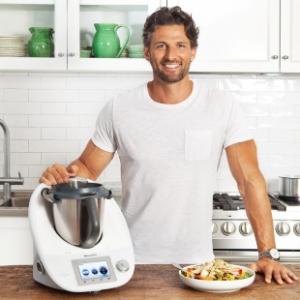 Join our newest Thermomix Ambassador, Tim Robards of 'The Bachelor' fame, in making a delicious and refreshing summer salad!
The recipe for Tim's Chicken, broad bean and snow pea salad can be found here and you can also watch a video of Tim preparing his refreshing salad here.
Tim's Chicken, broad bean and snow pea salad packs a punch of protein – 24g of protein and only 3g of sugar in every serve. It is also a good source of dietary fibre is lactose-free and contains no additives and preservatives.
Tim is dedicated to health, fitness and clean living; and hopes to inspire Australians to thrive and become the best version of themselves. With a philosophy that centres on wholesome and nutritious food, Tim believes in making it easy for Australians to enjoy fresh, healthy meals even when they are on the go.

Tim has launched his own wellness program 'The Robards Method.' A new approach to real movement, sustainable nutrition and mindfulness, it aims to simplify the road to optimal health. 
At home in Bondi with his girlfriend Anna Heinrich, who he has been with since the debut Australian season of The Bachelor, Tim says he's the one who takes charge in the kitchen. With Thermomix's quick, efficient way of cooking it's the perfect tool for the busy pair to have a meal on the table within minutes.