Thermomix staff play favourites
---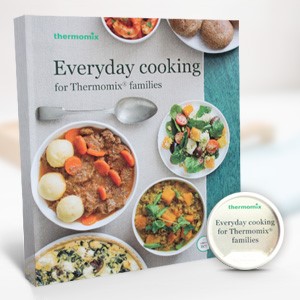 Rachel – Managing Editor – Recipe & Food Publications
Salted caramel sauce p.158
Making caramel sauce the "old fashioned way" can require a lot of time and attention to get it right. But this recipe is so ridiculously simple and the result is thick, rich and addictive. Click here for 50 uses for salted caramel sauce.
Silverbeet quiche with oat and Parmesan crust p.92
This recipe is one of my favourite "Sunday night" recipes. It's easy to prepare, filling and nutritious. It's also a good recipe to make with your kids – my tween prepares the crust and I do the filling.
Coppa del nonno p.164
I make batches of Coppa del nonno and keep them in my freezer to serve as ice-cream.  Or try making the coffee variation to serve with a simple chocolate cake for afternoon tea.
Grace – Recipe Developer
Sour cream and chicken enchiladas p.78
So easy and incredibly tasty. It's great for adults and kids!
Brown sugar kumara cake p.190
This quick, rich and decadent cake is made with kumara so you are basically eating vegetables
Salmon filo spiral p.108
So much buttery goodness and it looks absolutely gorgeous. Guaranteed to be eaten within 10 minutes
Kristyn – Recipe Developer
Vanilla and honey granola p.16
I make this for Christmas presents and it's always well received by all. It's also a bit of a family favourite.
Chorizo and chicken pasta p.70
This quick, weeknight meal is loved by all. It makes a massive amount so you always have leftovers.
Stone fruit crumble p.204
This slice will fill lunch boxes for a week with leftovers for after school and still some more. Simply change up the fruit to what's in season and it always seems a little bit different!
Jackie – Executive Manager, Marketing and Communications
Beef stew and buttermilk dumplings p.54
A tasty beef stew simmers while the dumplings steam in the Varoma. It's a hearty and delicious dinner! My husband's fave.
Cauliflower soup with bacon dust p.42
Simple, yet fancy enough to impress dinner guests. Super tasty – creamy cauliflower, teamed with salty bacon – delicious!
Jess – E-Marketing Coordinator
Spiced labne with pumpkin and rocket salad p.120
I cooked this for some friends and was given a unanimous ten from the 'judges'. Enough said.
Chilli beef with lemon feta p.58
This dish is combines some of my favourite flavours and is on the table in less than 30 minutes. I often make the lemon feta by itself to dollop on top of poached eggs or avocado on toast.