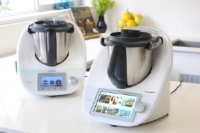 VORWERK ANNOUNCES NEW THERMOMIX MODEL IN EUROPE
Announcement made by Vorwerk International on Saturday March 9th, 2019
The Thermomix manufacturer, Vorwerk, has announced the launch of a new model in Europe.
Like the TM5, the new Thermomix TM6 is a smart, connected appliance where you can enjoy step-by-step guided cooking directly on the screen of your Thermomix. Use your touch screen to control time, temperature and speed using manual mode to create delicious meals for your family, every day.
What's different about the new model and when will it be available in Australia and New Zealand? 
The first thing you'll notice is the large touch screen. The TM6 has its Wi-Fi connection built in. This connectivity and the large screen enable you to browse more than 40,000 recipes on Cookidoo.com.au, our online recipe library.
You'll find your favourite functions and some new ones on the TM6. We expect the price to be approximately $200 more than the current TM5 model. The new TM6 model is expected in Australia and New Zealand mid-year.
We've created a special website to keep you up to date.
Vorwerk (the manufacturer) is continually working on technology to keep Thermomix at the leading edge of 'smart' kitchen innovations, including releasing new models or changing existing models from time to time. Announcements about new models are made by Vorwerk and we'll always share any announcements as soon as possible.
We look forward to sharing more updates with you as they become available. For more information please go to thermomixTM6.com.au, thermomixTM6.co.nz or talk to your Consultant.