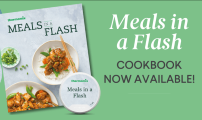 Preparing healthy, delicious meals when you're short on time can be a challenge. But with your extra pair of hands in the kitchen and our new Meals in a Flash cookbook, you really can conquer the mid-week or entertain a crowd without spending all night in the kitchen.
Filled with quick breakfasts, sides and amazing mains, each recipe take less than 40 minutes. And that includes getting your ingredients out and prep time!
So mix up your mid-week with weekend-worthy meals, or plan that catch up with friends knowing that you'll spend more time chatting than you will chopping.