Quirky Cooking's Christmas menu
---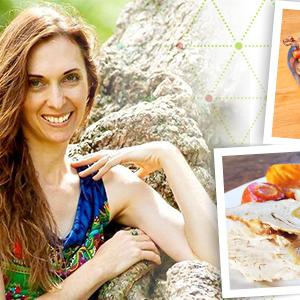 Orange spice roast turkey with grain free bacon and onion stuffing and gluten free gravy.
Beetroot ciabatta (pg 146 Quirky Cooking)
Marinated beetroot and spinach salad
Cherry or Berry Dairy free 'cheesecake' (pg 202 Quirky Cooking – see Berry variation below) The recipe in the cookbook also has a mango version too!
Chocolate dipped gingerbread biscuits (pg 179 Quirky Cooking) or Grain free gingerbread biscuits
Dry ginger lime fizz (pg 65 Quirky Cooking) or Raspberry lemonade
Berry Cheesecake Variation
1. Place 200g blueberries into Thermomix bowl; add 300g water, 50g honey, 10g fresh lime or lemon juice, and 2 tbsp gelatin.
2. Cook 12 mins/90C/reverse/speed 3. Leave to cool for a little bit, until you can handle it to strain.
3. Strain through a nut milk bag or fine mesh sieve, squeezing out the pulp well. Discard pulp.
4. Let the jelly cool a little until it's barely warm, but still pourable. Don't leave it too long or it will begin to set and won't pour smoothly onto cheesecake.
5. Top cheesecake with some more mixed berries - I use blueberries and raspberries.
6. Pour jelly over the berries, adding a few more on top if you like.
7. Place in freezer to set for about 10 mins, then it's ready to serve! Don't leave it in the freezer once set, as the jelly will crystallise. Put it into the coldest part of the fridge.
Optional – top with dried pomegranate seeds and serve on top when serving for extra crunch.