Travelling with Thermomix
---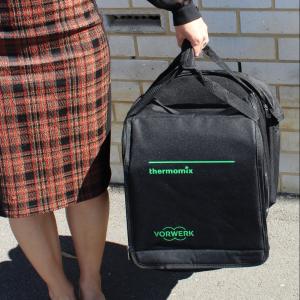 Thermomix Consultant Michelle travelled over 33,000kms with her family and her Thermomix across Australia. We aksed Michelle to share her story and her tips for travelling with Thermomix.
The very first time I saw the Thermomix I knew it would be perfect for camping and caravanning.  I actually purchased the Thermomix for our Aussie road trip which was a couple of years away.
I was a stay at home mum with a 2 year old and a 5 month baby… we were going to purchase and right at the last minute I thought I would earn my Thermomix instead. I was only going to stay for 60 days but I found out I loved everything about my job and continued.
The trip
This trip has been a dream for many years and now we are finally living the dream. With our 2 beautiful children Leila (almost 4) and Angus (almost 2) the timing was right, we packed up our caravan and started our adventure! We had six fabulous months travelling around this beautiful country we live in, the family bonding was the best experience of all. We travelled 33,000 km's in 6 months, spending 3 months in Western Australia. This was a real highlight as we are from New South Wales and we wanted to make the most of the time we spent in the west.  I even popped into head office whilst in Perth!
Travelling with Thermomix
Generally when we caravan or camp we eat barbeques most of the time, but for a 6 month trip I really wanted to eat like we would at home. Enter Thermomix.
The Thermomix is a space saver, we didn't need to pack lots of pots, pans and utensils and with the TM5 I just packed the recipe chips and not the cookbooks. We were able to pack less food as we just needed the basics and Thermomix could do the rest.
We rarely dined out or bought take-away which was healthier and saved us money.  We ate like kings and the food was healthy, quick and delicious.  We had full days sightseeing or travelling but at the end of the day we still could cook a hot meal with very little effort.  It was easy to keep to our regular style of eating and keep our health goals by limiting sugar, removing preservatives and additives and lots of veggies smuggling for the little ones. I know when I am on holidays generally my healthy eating goes out the window, we lost weight because of the healthy eating!
We made everything - dips, salads, mains, yoghurt, butter, protein balls, cocktails, pancakes, cakes, ice-cream, CADA, bread, pizza dough and the list goes on.  The Thermomix is definitely the best travel buddy it's like having a chef on board with us - it really didn't feel like I was cooking.
Top tips for travelling with Thermomix
* Insure your Thermomix
* Buy a travel bag to keep your machine safe whilst travelling (or receive one as our gift to you when you purchase your Thermomix.)
* Prepare simple things such as salads, dips, CADA and yoghurt beforehand for easy meals and snacks.
* Plan ahead – decide what dishes you will be making and stock up on common ingredients. Think about multi use items which can be used to create your basics. For example, pack one sugar to turn into caster and icing sugar. Nuts and coconut can be turned into milks and flours. Shopping in remote towns can be expensive so we saved money by only buying fresh produce.
Michelle's 3 favourite recipes for travelling
* Something For Everyone - Corned Beef, Vegetables and parsley sauce
* The Basic Cookbook and recipe chip - Meatballs in tomato sauce with steamed vegetables
* The Basic Cookbook and recipe chip - Beef stroganoff
Receive a bonus Black Thermomix Carry Bag as our gift to you when you purchase your Thermomix between 12 and 31 December 2015. Just in time for the school holidays, the Black carry bag makes travelling with your Thermomix easy. Click here for more info.