50 uses for salted caramel sauce
---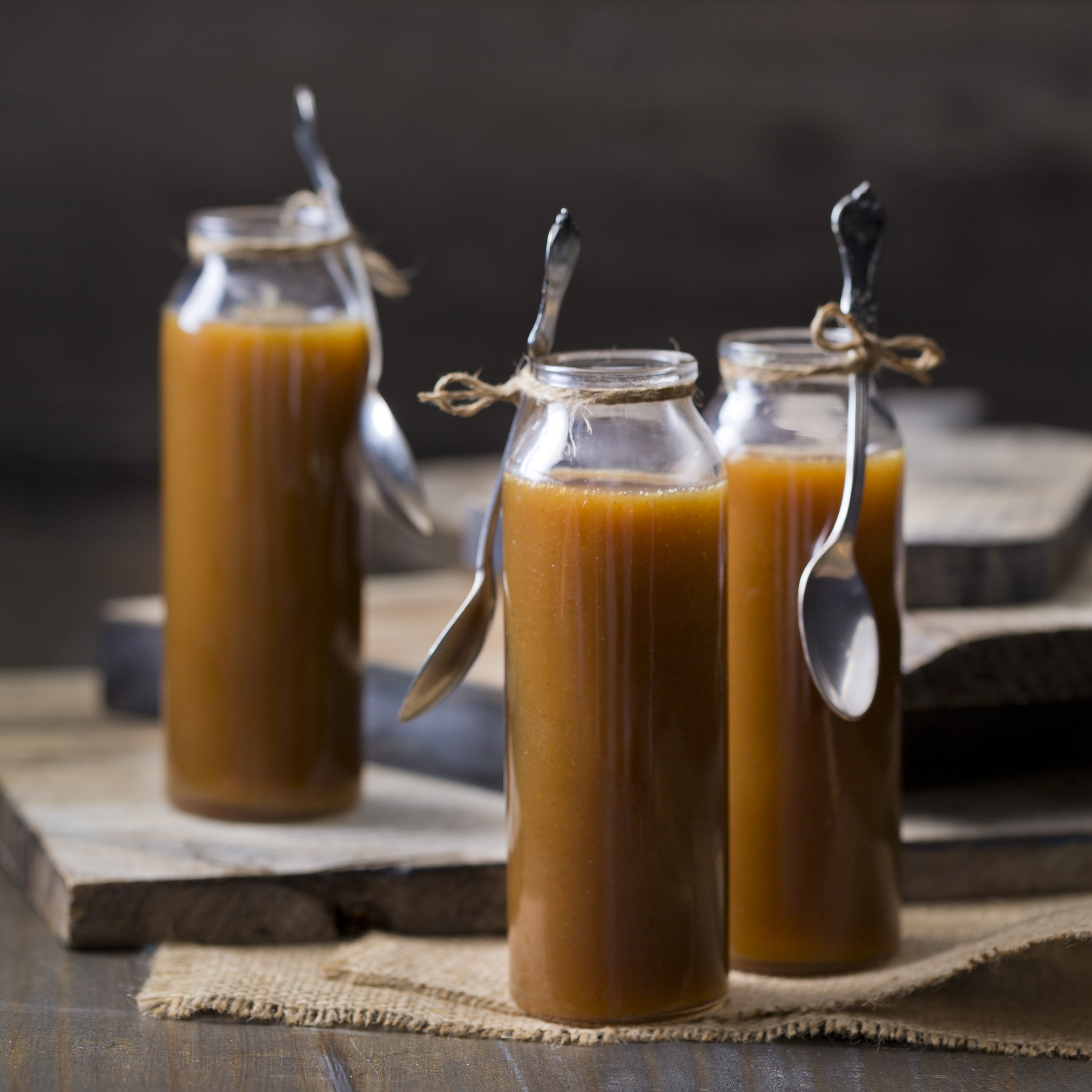 1. Eat with a spoon, from the jar
2. Indulge in salted caramel hot chocolate
3. Celebrate with some salted caramel cocktails.
4. Create salted caramel filled chocolate truffles
5. Use as a glaze for your roast pork
6. Stir through popcorn on your next movie night
7. Drizzle over ice cream
8. Take your banana or chocolate milkshake to the next level by adding a dash of salted caramel sauce
9. Stir through warm custard
10. Sweeten up the in-laws with a homemade gift
11. Dollop over your bacon for breakfast
12. Serve thick salted caramel sauce with brie on crackers
13. Make a salted caramel fountain
14. Stir through your favourite nuts or cacao nibs for a sauce with crunch
15. Dip baked hot chips in a salted caramel dip. Trust us.
16. Swirl through meringues before baking
17. Stir through rice pudding for the perfect winter dessert
18. Bathe steamed apples or pears in warm salted caramel sauce
19. Drizzle over buttercream icing on top of cupcakes
20. Smother on top of pancakes with chopped bananas
21. Make Salted caramel drinking yoghurt or stir through automated yoghurt recipe.
22. Salted caramel overnight oats – stir through sauce in the morning
23. Mixed through Greek yoghurt
24. Salted caramel protein balls
25. Salted caramel popsicles
26. Drizzle over crepes
27. Serve with apple pie
28. Pour into tart cases before setting, add a layer of chocolate for bonus points
29. Drizzle over a pavlova
30. Make a layered chocolate cake by spreading cooled sauce as a filling between two layers of 'Too easy chocolate cake'.
31. Stir through your morning coffee for a decadent treat
32. Cinnamon apple scrolls with salted caramel sauce
33. Drizzle over a sweet pizza
34. Salted caramel melting moments
35. Dollop on top of chocolate brownies
36. Swirl through a cheesecake, just before baking.
37. Make a salted caramel pool and swim in it
38. Sandwich between two macarons
39. Mix into LTM's (Little Thermomix Munchies) before baking
40. Make salted caramel peanut butter
41. Pour over ice cream and coffee for an affogato with a difference
42. Substitute for sticky date caramel sauce
43. Peanut butter and salted caramel ice cream
44. Serve as a dipping sauce with churros
45. Make Salted caramel butter
46. Salted caramel brownie trifles
47. Ice your cookies with cooled sauce
48. Stir through a tablespoon of salted caramel into your favourite soy chicken wing glaze for sticky wings
49. Make salted caramel frosting
50. Substitute for jam in these biscuits