Basic Cookbook recipe suggestions
---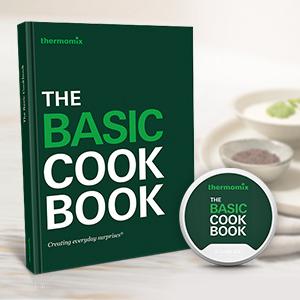 With over 180 delicious recipes included in the Basic Cookbook, we understand if it's a bit daunting trying to decide which recipe to try first. We asked our recipe team along with our Consultants for their recipe recommendations, to help you dive in and start cooking!
Rachel – Acting Managing Editor – Recipe & Food Publications
Butter chicken (p.164)
Butter chicken is a firm favourite in our household. It's so creamy and flavoursome… in fact, my family prefer this homemade version over getting takeaway
Brioche (p.236)
Using traditional methods, brioche can be tricky to make, but this recipe is incredibly simple and straightforward – and the texture is fantastic! I'll often use leftovers the next day (if it lasts that long!) to make French toast or Bread and butter pudding.
Kristyn – Recipe Developer
Spreadable butter (p.44) and Vanilla ice cream (p.298)
I have never brought ice cream or butter since owning a Thermomix. I would make both these recipes on average at least once a week, they are my family basics.
Torta Caprese (p.332)
This is my go to recipe when I need whip something up quickly, no one ever complains (it is so delicious) and I never have leftovers.
Grace – Recipe Developer
Lemonade (p.366)
This was one of those recipes that I looked at and was convinced you couldn't make lemonade in 2 seconds…..I was wrong! This is such a fantastic recipe, it's simple, easy and so incredibly tasty.
Crème brûlée (p.282)
This recipe uses the special temperature feature of the TM5 by cooking at 85°C. It works so beautifully and is one of my favourite all time desserts. Creamy and silky result – definitely a crowd pleaser!
Amy - Print and Digital Content Coordinator – Recipe & Food Publications
Pizza Margherita (p.194)
There is something so divine about freshly made pizza bases and the simple flavour combination of tomato, basil and mozzarella. So simple yet delicious – a true Italian favourite and one that we munch on regularly.
Béarnaise sauce (p.244)
This sauce is so rich and creamy, it brings any steak alive! You will be amazed at how simple it is to create your Béarnaise sauce from scratch. Serve straight away with a beautiful steak cooked to your liking and you will not be disappointed!
Consultant's Choice
Creamy tomato and salami fettuccine (p.120)
When we asked our Consultants which recipe they most often recommend to their new customers, this was the favourite by far! This one pot recipe cooks the pasta straight into the sauce – no mess, no fuss!