Dani Valent's Casual Christmas Menu
---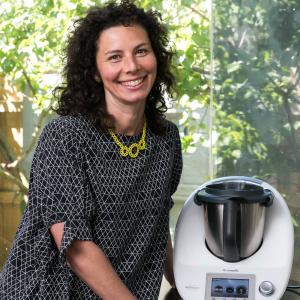 Here are some super simple, festive and fun Christmas dishes from my books. Get in quick to take advance of the special bundle offer and have your copies of In the Mix delivered in time for your Christmas cooking or gifting.
Strawberry Gazpacho: this quick and easy starter is a stunning crowd pleaser that can be made ahead of time and easily doubled if you are feeding a big crowd. (In the Mix 2, page 60)
Gin Fizz: consider this zesty cocktail to get gatherings off to a sparkling start (In the Mix 2, page 51)
Beetroot, Pomegranate and Pistachio Salad: a dressed up Middle Eastern version of a Thermomix classic, with the cheeky kick of pomegranate molasses (In the Mix 1, page 77)
Salmon Rillettes: the most sophisticated seafood dip you've ever had, made with fresh and smoked salmon (In the Mix 1, page 94).
Chia and Quinoa Crisps: serve the Rillettes (above) with these easy gluten-free crackers (In the Mix 1, page 44)
Boeuf a la Ficelle: Sounds fancy and French but this poached eye fillet is an easy and fuss free way to cook beef for a bunch of friends or family (In the Mix 2, page 147)
Liquid Cheesecake: a beguilingly simple dish, which you can dress up with berries and a swirl of coulis or jam (In the Mix 2, page 155)
Chilli Cherry Ripe: the BEST teacher gift in the land; make it extra spicy so the kids stay away (In the Mix 2, page 166 and I've shared the recipe here.
Christmas doesn't feel like Christmas without ham so I'm also delighted to share my recipe for Spicy Peach and Mango Jam Glazed Ham
Sign up to my newsletter while you're on my site to be first to hear about my exciting news for 2016, including a new website with Thermomix cooking videos and more Thermomix Restaurant Club events.
Meantime, have a happy and tasty Christmas!
Warm wishes,
Dani