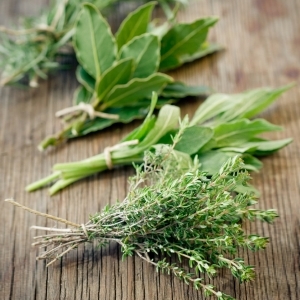 So you've successfully planted a herb garden! Don't just stand back and admire your handy work, those herbs were made for cooking!
Snipping plants regularly helps to encourage new growth, so you'll get more bang for your buck! Whilst fresh is usually best, during hot summer days pick your herbs for dinner in the morning to avoid them wilting in the harsh sun.
Hot tip – Store your herbs sitting in a glass of water in the fridge to keep them fresher for longer. Seriously it works!
Here are some links to recipes to get you using your herbs and veggies.
Kale, basil and cashew pesto – will keep in the fridge for a week, just pour a layer of olive oil over the top to keep the greens covered and stop them from oxidising
Corn and coriander salsa – viva la Mexico! This recipe goes great with the Mexican Beef Cheeks from our 2014 Calendar
Quinoa with salmon and mint pesto – A quick, fresh and healthy dinner
Green goddess dressing – Jazz up your salads with this flavour packed dressing.
What are some of your favourite herb recipes? Share them on our Facebook page