How to create the perfect cheese platter
---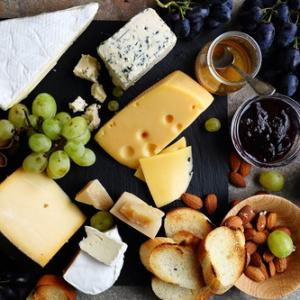 It's always time for cheese, but when it comes to party season nothing pleases more than a great plate of cheese. While creating a cheese platter is relatively simple, putting a little extra thought and including a few homemade pieces will turn a cheese platter into a conversation starter.
Step 1 –The Cheese
Three is a good number for most cheese platters and aim for 30-40g per person, if there is other food being served. For a good variety, choose one from each group.
Soft and creamy - brie, camembert
Hard– cheddar, gouda
Sharp – blue cheese, goats cheese, parmesan
Bonus tip – remove the cheese from the fridge up to an hour before serving and cover with a damp tea towel. Cheese at room temperature is full of flavour.
Step 2 – The Channel
Take your cheese platter to the next level with homemade crackers and bread. Like the cheeses, it's a good idea to mix up the taste and textures and if serving an unknown crowd, include a gluten free option.
Christmas fruit cake (it's fun, festive and the combination of dried fruit and a sharp cheddar cheese just works)
Almond and cranberry biscotti – your brie will love you
Parmesan shortbread – cheese on cheese, yes please
Step 3 – The Companions
Complete your cheese plate with one or two homemade condiments. Choose recipes which strike the balance between sweet and tart to bring out the flavours in the cheese.
Here are our three favourites.
Apple & ginger paste – watch the video to see how it's done
Chilli and apple jelly – spice up your cheese platter
Brinjal eggplant chutney – this recipe makes a lot! Give the remainder to guests or keep for leftover ham sandwiches.