How to host a Thermomix Soup Swap
---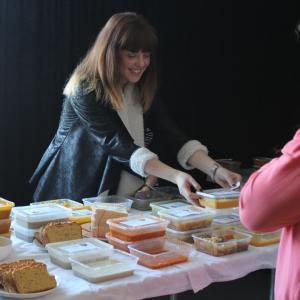 What is a Soup Swap?
Each participant brings in four containers of one kind of soup, which are then exchanged with other party goers, so that everyone leaves the party with many different kinds of soup to try.
Why?
A soup swap is a fantastic way to bring people together to encourage home cooking. Plus it's Winter and we love any excuse to get together and eat delicious food. It's also soup-er convenient to cook up only one batch of soup and get four different flavours in return.
Planning the swap
Here's your soup party checklist
1.  Invite a bunch of soup-loving friends and family over. Click here to download our Thermomix Soup Swap invites.
2.  Ensure each guests understands what the soup swap is and what they are expected to bring
                - Four containers of soup in disposable containers (or ones they don't mind giving away).
                - The soup can be refrigerated or frozen
                - An extra small container of soup as a taster
3. Bake up a loaf of bread which can be cut up and used to taste the soups. We baked the Basic bread and Chia and pepita gluten free loaf recipes from The Basic Cookbook.
4. Print out these soup labels which can be stuck to each container of soup.
5. When everyone arrives, help them to set up their soup station and encourage everyone to mingle and taste the soups.
6. Take photos and upload to social media with the hashtag #ThermomixSoupSwap
How the swapping works
Once everyone has filled up on bread and soup, then the real fun begins!
The simplest, most organised way to swap soups is to have everyone draw numbers from a hat and pick soups in that order. You can redraw numbers each round to ensure that everyone has a fair chance at the coveted first pick. Continue with this method until all soups are gone!
Now it's time for everyone to head home, eat their soup or stash it in the freezer for a rainy day! We hope you enjoyed the first ever Thermomix Soup Swap! Here are some pictures from our staff Thermomix soup swap.