Louise Fulton Keat's Christmas with Kids
---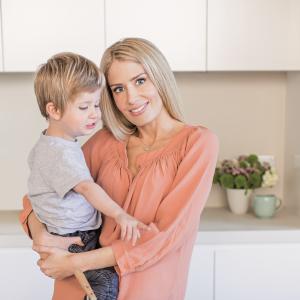 CHRISTMAS WITH KIDS
One of the best ways to beat boredom this Summer holidays is to bring your children into the kitchen for some Christmas cooking fun. Here are some top tips from Louise Fulton Keats to keep it enjoyable for everyone.
Getting the recipe right. When choosing holiday recipes, make sure they fit your child's skill levels to avoid frustration all around. An older child will have the patience to help you with the Christmas pudding (such as this Quinoa Christmas Pudding with Custard) and the stuffing for the turkey (try making this Roasted Stuffed Turkey Breast together). However, a toddler will be better suited rolling bliss balls (such as these Raw Cacao Bites) or popping the fruit into the mixing bowl for a festive frappe, under your watchful eye.
Waiting game. Also choose a dish that's age-appropriate in terms of waiting times. Younger children will prefer something they can get instant gratification from, such as a fruit salad or a smoothie, whereas older children will be patient enough to wait for the jellies to set and the Fruit Leathers to bake.
Ice, ice baby. If you've never made Thermomix ice cream with your children, the Christmas holidays provide the perfect opportunity. Make a healthy ice cream using frozen milk ice cubes, fresh fruit and minimal sugar – or skip the dairy altogether and make an instant Sorbet with some Summery passionfruit and frozen banana. Ice blocks are another easy frozen treat. Just whizz up any Thermomix juice or smoothie recipe (such as this Green Banana Coconut Smoothie), pour it into moulds, add a popsicle stick, and in a few hours your child can have a super healthy frozen treat. Yum!
Festive twist. You can give any of your child's favourite recipes a yuletide twist by adding some red and green ingredients. Whizz some raspberries or mint leaves through vanilla ice cream, or use cherry tomatoes and peas to decorate a festive pizza. Pistachio Cranberry Muffins are another Christmas favourite. Using Christmas-inspired shapes is another way to create a festive twist. Pikelet batter can be poured into Santa-shaped cutters in the frying pan and Fruit Jelly Gums can be cut into trees and stars.
In-dough-pendence! It can be really hard letting your child have free reign to make mistakes
in the kitchen, but this is the best way for them to learn. Making biscuits or pizza is a great holiday activity, but rather than taking over your child's attempts, let him have his own kid-friendly kitchen utensils and his own ingredients which you don't mind if he ruins. He can watch how you do it before attempting his own creations. When making my Spiced Christmas Biscuits, for example, I like to give my son his own baking tray, rolling pin, cut-out shapes and little portion of dough (that we've made together in our Thermomix). That way I can get onto cutting out the rest of the dough in perfect peace without him squishing everything, while he gets the delight of making his very own creations. Another trick is to put a flat ice pack under your child's baking tray to keep his dough nice and cool while he works. If it stays chilled, it's much easier to handle.
Home grown. If you have any fruit or vegetables growing in your garden, take some time to pick them with your children as part of your festive food adventures. If you don't have space for a garden, establishing a couple of herb pots is the perfect tool for teaching kids about where food comes from. Once picked, they can be used in Pesto or a Green Frappe – both are fail-proof recipes your kids might like to try. Studies have shown that children who grow their own ingredients are more likely to eat them, so it's a great way to help prevent fussiness over those flecks of green!
Festive Gifts. You can save yourself hours of schlepping through the shops by baking Christmas gifts with your children instead. Dotted with red and green, these Cranberry Pistachio Rounds make the prettiest Christmas present for all ages or, for a savoury biscuit, try these Sesame Cheese Biscuits cut into stars and Christmas trees. Packaged into little tubs, this Avocado Coconut Ice Cream makes the most delicious cool – and healthy – alternative to a baked gift!
Watch the sugar. Cooking with kids ideally shouldn't involve a sugar overload, particularly during the silly season when there tends to be a lot of treats on offer. Say goodbye to refined white sugar and instead sweeten your baking with healthier fruit and vegetable purees made in your Thermomix, such as apple and pumpkin. Adding a banana to your pancake mix and muffin batter is another way to cut the white sugar – just whizz it up in the mixing bowl along with your other ingredients. When you have made a sweet treat, cut it into smaller pieces or make a mini version so that you can still serve your child one, even two, portions of her favourite food without her overloading on the sweet stuff.
First Christmas. When it comes to Christmas lunch, there's no reason your baby should miss out on that either! For babies who have started solids, the Thermomix is the perfect appliance for adapting your family's celebration meal. Whether you're having a traditional roast or a cooler seafood meal, it can all be whizzed into baby food so that your little one gets a taste of Christmas too.
Although it requires tons of patience, particularly in the Summer heat, involving your children in cooking will eventually pay dividends. Sending a child out into the world knowing how to cook is one of the best lifelong gifts you can give them. Yes, there'll be mess, but hopefully the grins will make it worthwhile. Merry Christmas!