Make the most of Christmas leftovers
---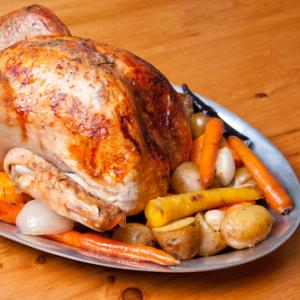 From Jo Whitton of Quirky Cooking.
One thing I absolutely love about having a big Christmas dinner is all the delicious leftovers! Here's some ideas for using them up…
Roast turkey: Add small scraps of meat to soup (made with broth and plenty of veggies); use Gluten free pizza bases to make turkey pizzas. Make sandwiches with thin slices of breast meat or create a Moroccan Cauliflower 'Cous Cous' Salad, adding leftover roast turkey instead of chicken (omit chicken and garlic from recipe)
Turkey carcass (remove and reserve meat): Broth for soup! Add in any leftover gravy or pan juices, plus some fresh onion, garlic, carrot, celery and herbs.
Roast veggies: Make a cold roast veggie salad - toss with baby spinach, rocket, thin slices of red onion, some roasted seeds or nuts, cherry tomatoes, and drizzle with olive oil and balsamic vinegar.
Stuffing: Make stuffing balls with leftover stuffing: shape stuffing into balls, roll in coconut flour, whisked egg, then almond meal (seasoned with salt), and fry in large frying pan with ghee/coconut oil until golden brown. (For egg free, just roll in a mixture of half coconut flour, half almond meal.)
Bread/muffins: Make Sausage Strata for another big family meal, or blend up with fresh parsley, chives and garlic to crumb chicken or fish. Bread crumbs freezes well too.
Beetroot Ciabatta: Use up in a Bread and butter pudding, it tastes great and looks beautiful!
Cheesecake: (If you're lucky enough to have leftovers!) Slice up into thin slices, wrap each slice separately in parchment paper, and store in freezer, ready for serving to holiday visitors when they drop in!