Thermomix Staff's Festive Favourites
---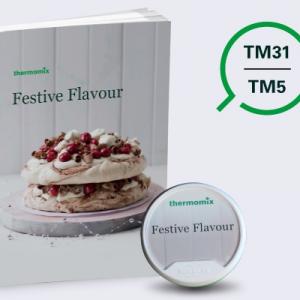 Sarah - Print and digital coordinator
Peanut and soba noodle slaw (p.20)
This is a delicious salad that can be enjoyed all year round and takes no time at all to prepare! It feeds a crowd too, making it ideal for barbecues and picnics.
Spiced cherry brioche wreath (p.90)
Everything about this recipe says "Christmas" to me, plus it doubles as a gorgeous centre piece for your table.
Emma - Database coordinator
Aussie potato salad (p.24)
Serve this classic salad with leftover meats and fresh bread rolls for a super easy and delicious dinner. Perfect for Boxing Day!
Tara - Database coordinator
Chocolate and anise fruit bark (p.176)
This is a great gift idea for a busy mum like me! Quick and easy, it's a lovely gift to give wrapped up in pretty packaging with a handmade gift tag.
Kristyn - Recipe Developer
Beetroot and tequila cured salmon (p.30)
Make this dish when you are hosting a dinner party, or take to someone's house as a light entrée. Everyone will think you have spent hours in the kitchen, but it really only takes around 20 minutes.
Pancetta-wrapped apricot stuffing roll (p.70)
This recipe is so easy to prepare and helps reduce the stress of preparing everything at once, since you can make it a few days in advance and store in the freezer.
Deborah - Recipe Developer
Asian crab cakes with wasabi mayonnaise (p.152)
These crab cakes are a great starter for any party. They're moreish, full of flavour and you can prepare them in advance and heat them up just as your guests arrive.
Melted brie with basil and lemon pesto (p.142)
This is my favourite go-to recipe when entertaining – not only at Christmas, but all year round. It's always a huge hit with my guests.
Rachel S - Recipe Developer
Gingerbread biscuits (p.204)
Perfect for creating a gingerbread house!
Jalapeno and corn croquettes (p.162)
I love this recipe. I make the mayonnaise and croquette mixture the night before. That way all I have to do on the day is batter and fry them just before I want to serve them.
Rachel H - Managing Editor
Rosemary salt (p.182)
This flavoured salt makes for a fantastic gift! It's easy, economical and personal. I use rosemary from my garden and include a recipe featuring the salt.    
Citrus seafood salad (p.26)
Makes for a beautifully fresh, light dinner option, especially in the days following Christmas when you want a quick and easy meal (but just can't face another leftover ham sandwich!).
Krystle – Marketing & Communications Coordinator
Watermelon canapes with whipped feta and walnuts (p.160)
These little bites of joy are perfect for entertaining. Everyone will want to be your friend!