Growing your own herbs for health
---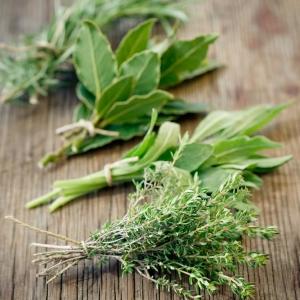 Fresh herbs are the best way to add flavour and a nutritional boost to your cooking.  Whether in garden beds or pots on your window sill, you'll be amazed at how easy it is to grow herbs at home. It's very satisfying and you'll make a big saving on your grocery bill!
Eating herbs fresh from the garden is also the best way to capture their full nutritional value as plants start to lose nutrients 30 minutes after being harvested. Below is our list of 10 of the best herbs for your health, along with recipes and tips for growing them yourself.
Basil
Basil is a versatile herb that can be used in many different cuisines. It goes especially well in Italian dishes when paired with tomatoes and will also freshen up your salads and stir frys. The essential oils in basil contain antioxidant, anti-inflammatory and anti-bacterial properties. Basil plants love the morning sun but can wilt in extreme temperatures so place them somewhere they'll be protected from the hot afternoon sun. Try these recipes…
Chives
These mild garlic and onion flavoured herbs are packed with anti-viral, anti-bacterial and anti-fungal properties. They are high in Vitamin A, Vitamin C, calcium, iron and folic acid and are one of the richest sources of Vitamin K (thought to have a role in bone health). Chop them up and add to dips, a potato salad or scrambled eggs.
Coriander
Coriander is one of those herbs people either love or hate. Researchers have found that coriander has a detoxifying effect on the body and may assist with clearing the body of lead, aluminium and mercury. The Coriander plant loves the sun and thrives in our warm climate. Add to fish, use in Mexican inspired salads and salsas or add to your stir fries. The roots are fantastic in curry pastes too!
Parsley
Parsley is the most common of all herbs, perhaps because it's the easiest to grow. It will happily multiply and spread when planted in the ground, so plant in pots if you want to keep it contained. Parlsey is rich in many vitamins including Vitamin C, B 12, K and A, which helps to keep your immune and nervous systems strong. Try this refreshing Tangelo, parsley and lemon juice.
Rosemary
Traditionally Rosemary has been used to improve memory, relieve muscle and joint pain, stimulate hair growth and support the circulatory and nervous systems. It is also a good source of Vitamin E and other powerful antioxidants. It's a hardy perennial that will last the distance, even in dry soil. It pairs beautifully with meat, use the woody stem as skewers to impart a subtle flavour into your lamb koftas. Rosemary and potatoes are also devine, try our recipe for Pizza bianca potato and rosemary.
Mint
Spearmint, Vietnamese mint, apple mint and choc mint are just some of the many varieties available. Add to your green smoothies and juices or make the most amazing tea from the fresh leaves. It is said to relieve anxiety and tension. It will grow like crazy so keep in pots if you need to contain the plant. Try this recipe for Quinoa with salmon and mint pesto.
Gotu Kola
Described as "nature's pharmacy" gotu kola contains Vitamins A,B,C and D and minerals including calcium, chromium, cobalt, magnesium, manganese, phosphorus, selenium, silica and zinc. It is also a powerful anti-inflammatory which is great for reducing back and joint pain! This little ground cover will grow happily in shady spots. It can be made into a tea, mixed into green smoothies or just eat the leaves fresh picked from the garden.
Sage
Sage is anti-hypertensive, anti-inflammatory and anti-microbial. Plus it helps to lower blood sugar levels. Sage pairs really well with poultry and fish or can be added to melted butter to create a decadent sauce. This gluten free bread spiced with sage and apple cider is also a must make!
Lemon Balm
A herb belonging to the mint family, lemon balm is often used to treat anxiety, sleep disorders and improve digestion. It also speeds up the healing of cold sores. It can be added to salads or soak the leaves in hot water to make a tea at night. Make your own tea mix at home with this recipe for Don't sweat the small stuff tea.
Sorrel
Not your common herb variety, sorrel is making its way onto restaurant menus, often picked fresh from their herb garden out the back. Sorrel leaves are rich in Vitamin A, Vitamin C, iron, calcium and magnesium. The tangy, lemon flavoured leaves are great to add to salads and soups and pair beautifully with Salmon.