Making yoghurt in the TM6
---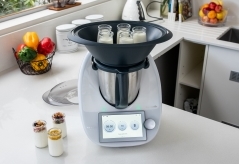 While making yoghurt in your Thermomix has always been possible, the new fermentation mode on the TM6 now makes it easier than ever to make healthy, probiotic pots of goodness. Using the Varoma, your TM6 will help you keep the perfect temperature for incubating your yoghurt overnight. And with our gorgeous new individual yoghurt jars, you can make perfectly portioned bottles of yoghurt for the whole family, while cutting down on plastic waste.
Watch our video to see how it works.
Visit our blog to find out more.
thermomix.com.au/blog
thermomix.co.nz/blog