TM6 arrives first week of July!
---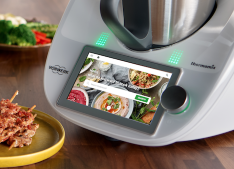 The TM6 is a smart, connected appliance where you can enjoy step-by-step guided cooking directly on the screen of your Thermomix. Use your touchscreen to control time, temperature and speed using manual mode.
The TM6 has its WiFi connectivity built in. This connectivity and the large screen enable you to browse Cookidoo, our online recipe library.
The TM6 has 20 functions and is due to arrive in Australia early July 2019. To find out more about the TM6, visit thermomixtm6.com.au or thermomixtm6.co.nz