Shane Delia's Spice Journey
---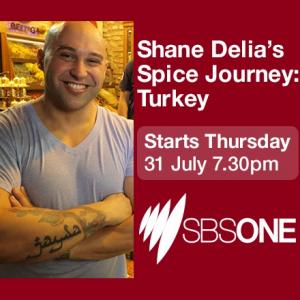 Shane Delia is the award-winning owner and head chef of Maha restaurant in Melbourne. Shane also stars in his own TV show, Spice Journey where he travels through the Middle East, exploring the local food culture.
Fans of Shane Delia's Spice Journey would have spotted a Thermomix being used in his kitchen. In series two, he travels to exotic and mysterious Turkey. After exploring the historical and cultural foundations of this colourful country, he then brings back what he has learnt to his Melbourne kitchen where he creates a contemporary twist on those Turkish flavours.
We recently spoke to Shane to find out a little bit more about his new series, and his love of Thermomix.
Tell us about Spice Journey: Turkey.
It's a comprehensive look at Turkish food, culture and history. I really wanted to show the diversity of Turkish cuisine, there's a lot more to this region than the Aegean favourites that we know here in Australia.  
What's the craziest thing you tried in Turkey?
There were some amazing flavours and dishes that I experienced in Turkey but when it comes to crazy stuff, I'm not a fan of things that don't sound appetising! I try and steer clear of all that odd stuff like bull's penis, tripe, sheep's head and other less desirable ingredients!  
When did you first experience Thermomix?
I was first introduced to Thermomix in 2008. Back then all I knew is that I could weigh my ingredients, heat them and puree them to the most amazingly fine puree I have ever seen and that was enough to sell me on it!  
What was the last thing you cooked in your Thermomix?
Anglaise! We made all of the bases for our ice creams on Spice Journey: Turkey, in the Thermomix. 
How does Thermomix help you to re-create the Turkish flavours you experience in the show?
Thermomix helps me to breathe new life into traditional Turkish dishes.  It's a contemporary appliance, so it's always going to give a fresh approach to my dishes.
Spice Journey: Turkey premieres on SBS Thursday July 31, 7:30pm.