8 tips for using your Varoma
---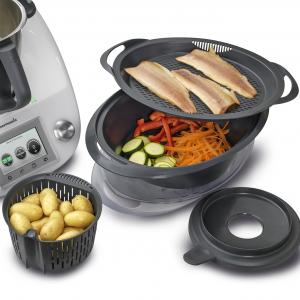 Follow these handy tips to master the art of cooking with steam. 
1. Cooking omelettes in the Thermomix results in a light and fluffy egg mix. When lining your Varoma tray (with wet, well-wrung baking paper), be sure to keep the side vents exposed so steam can circulate freely.
2. When steaming using the Varoma, ensure that you have at least 500 g water in the mixing bowl and check the levels of liquid every 30 minutes.
3. Make several meals at once! If you are making soup in the mixing bowl, steam some salmon fillets, vegetables or chicken or turkey breasts in your Varoma at the same time for meals the following day.
4. When creating a layered all in one meal, place quick to cook vegetables (spinach, peas etc.) into the Varoma tray and insert a few minutes before the end of the total cooking time.
5. When steaming meat, chicken and/or vegetables, use the steaming liquid to create a stock which can then be used as a base for soups or broths.
6. You can use the lid of your Varoma as a drip tray to catch any condensation or liquids after steaming.
7. Reheat leftover meat and chicken on wet, well-wrung baking paper in the Varoma dish to keep them juicy and tender.
8. Ramekins, silicone moulds and small pudding basins can all be used in the Varoma to make delicious winter puds. Just be sure that the Varoma lid sits properly, otherwise steam will escape and the food inside won't cook through.